Semi-Round Bend U-bolts
Semi-Round Bend Leaf Spring Ubolts

Semi-Round bend U-
bolts that include deep nuts and washers. Click Ubolt part numbers to find out pricing, shipping costs, and to order online.

If you don't see a U bolt that meets your specifications in our catalog, please use our inquire form. We can also make custom suspension U bolts based on the dimensions that you need. These custom axle u-bolts can be shipped anywhere by UPS.
Note - 361-XXX part numbers are U-bolt Kits that include two U-bolts, 4 deep nuts, and 4 hardened washers. 5U-XXXXSR and 8U-XXXXSR part numbers are individual U-bolts (made to order and non-returnable) with nuts and washers included (i.e. one U-bolt, 2 deep nuts, and 2 hardened washers).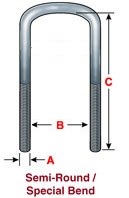 Click Part Number for Pricing and to Order Online!
| | | | | | | | |
| --- | --- | --- | --- | --- | --- | --- | --- |
| Part No. | Dim A | Thead Pitch | Dim B | Dim C | Grade | OEM Ref or Thread Length | Remarks |
| 361-464 | 1/2 | 20 | 2 1/2 | 6 7/8 | 5 | | "CR1" bend |
| 361-465 | 1/2 | 20 | 2 1/2 | 7 7/8 | 5 | | "CR1" bend |
| 361-444 | 1/2 | 20 | 2 9/16 | 10 7/8 | 5 | 3633737, 3735991, 4147955 | "CR1" bend |
| 361-312 | 9/16 | 18 | 2 1/2 | 5 | 5 | 3 | Ford |
| 361-463 | 9/16 | 18 | 2 1/2 | 7/3/2004 | 5 | 3 | GMC |
| 361-426 | 9/16 | 18 | 2 1/2 | 8/3/2004 | 5 | 3 | GMC |
| 361-441 | 9/16 | 18 | 2 1/2 | 13-3/4 | 5 | 3 | GMC |
| 361-436 | 9/16 | 18 | 2 1/2 | 14-3/4 | 5 | 3 | GMC |
| 361-437 | 9/16 | 18 | 2 1/2 | 16-3/4 | 5 | 3 | GMC |
| 361-402 | 9/16 | 18 | 2 9/16 | 6 3/4 | 5 | 2074619 | "CR1" bend |
| 361-462 | 9/16 | 18 | 2 9/16 | 9 3/4 | 5 | 1920526, 4228068 | "CR1" bend |
| 361-428 | 9/16 | 18 | 2 9/16 | 11 3/4 | 5 | 1922352 | "CR1" bend |
| 361-417 | 9/16 | 18 | 2 9/16 | 12 3/4 | 5 | 1922353 | "CR1" bend |
| 361-314 | 5/8 | 18 | 2 1/2 | 7 5/8 | 8 | 3 | Ford |
| 361-274 | 5/8 | 18 | 3 | 8 1/2 | 8 | 3 1/2 | Navistar |
| 361-318 | 5/8 | 18 | 4 | 7 1/4 | 8 | 3 | Ford |
| 361-389 | 5/8 | 18 | 4 | 8 1/4 | 8 | 3 | GMC, Isuzu |
| 361-320 | 5/8 | 18 | 4 | 9 1/4 | 8 | 3 | Ford |
| 361-420 | 3/4 | 16 | 2 1/2 | 11 5/8 | 8 | 5 1/2 | GMC |
| 361-421 | 3/4 | 16 | 2 1/2 | 13 5/8 | 8 | 5 1/2 | GMC |
| 361-352 | 3/4 | 16 | 2 1/2 | 14 5/8 | 8 | 5 1/2 | GMC |
| 361-354 | 3/4 | 16 | 2 1/2 | 16 5/8 | 8 | 5 1/2 | GMC |
| 361-372 | 3/4 | 16 | 3 | 9 3/8 | 8 | 3 1/2 | GMC |
| 361-571 | 3/4 | 16 | 3/1/2002 | 10 1/4 | 8 | 3 1/2 | Peterbilt |
| 361-332 | 3/4 | 16 | 3 | 14 1/2 | 8 | 5 1/2 | Ford |
| 361-356 | 3/4 | 16 | 3 | 16 3/8 | 8 | 5 1/2 | GMC |
| 361-334 | 3/4 | 16 | 3 | 16 1/2 | 8 | 5 1/2 | Ford |
| 361-270 | 3/4 | 16 | 3 | 18 3/8 | 8 | 5 1/2 | Navistar, Bluebird |
| 361-358 | 3/4 | 16 | 3 | 18 3/8 | 8 | 5 1/2 | GMC |
| 361-336 | 3/4 | 16 | 3 | 18 1/2 | 8 | 5 1/2 | Ford |
| 361-391 | 3/4 | 16 | 3 | 18 1/2 | 8 | 5 1/2 | GMC, Isuzu |
| 361-298 | 3/4 | 16 | 3 | 23 3/8 | 8 | 5 1/2 | Navistar |
| 361-360 | 3/4 | 16 | 3 | 23 3/8 | 8 | 5 1/2 | GMC |
| 361-405 | 3/4 | 16 | 3 1/16 | 13 3/8 | 8 | 15629103 | "IR" bend |
| 361-198 | 3/4 | 16 | 3 1/2 | 12 1/4 | 8 | 5 1/2 | Peterbilt |
| 361-481 | 3/4 | 16 | 3 1/2 | 13 1/4 | 8 | 5 1/2 | Navistar |
| 361-308 | 3/4 | 16 | 3 1/2 | 15 1/4 | 8 | 5 1/2 | Navistar |
| 361-390 | 3/4 | 16 | 4 | 8 1/4 | 8 | 3 1/2 | GMC. Isuzu |
| 361-324 | 3/4 | 16 | 4 | 9 1/4 | 8 | 3 1/2 | Ford |
| 361-216 | 3/4 | 16 | 4 | 10 | 8 | 3 1/2 | Navistar |
| 361-316 | 3/4 | 16 | 4 | 10 1/4 | 8 | 3 1/2 | Ford |
| 361-474 | 3/4 | 16 | 4 | 12 | 8 | 5 1/2 | Peterbilt |
| 361-322 | 3/4 | 16 | 4 | 12 1/4 | 8 | 5 1/2 | Ford |
| 361-567 | 7/8 | 14 | 3 | 13 3/8 | 8 | 5 1/2 | Hendrickson, Page |
| 361-326 | 7/8 | 14 | 3 | 16 3/8 | 8 | 5 1/2 | Ford |
| 361-328 | 7/8 | 14 | 3 | 18 3/8 | 8 | 5 1/2 | Ford, Reyco |
| 361-362 | 7/8 | 14 | 3 | 18 3/8 | 8 | 5 1/2 | GMC |
| 361-557 | 7/8 | 14 | 3 | 18 3/8 | 8 | 5 1/2 | Page |
| 361-591 | 7/8 | 14 | 3 | 19 3/8 | 8 | 5 1/2 | Ford |
| 361-330 | 7/8 | 14 | 3 | 20 3/8 | 8 | 5 1/2 | Ford |
| 361-364 | 7/8 | 14 | 3 | 20 3/8 | 8 | 5 1/2 | GMC |
| 361-392 | 7/8 | 14 | 3 | 20 1/2 | 8 | 5 1/2 | GMC. Isuzu |
| 361-366 | 7/8 | 14 | 3 | 23 3/8 | 8 | 5 1/2 | GMC |
| 361-604 | 7/8 | 14 | 3 1/2 | 12 | 8 | 5 1/2 | Navistar |
| 361-310 | 7/8 | 14 | 3 1/2 | 15 1/8 | 8 | 5 1/2 | Navistar |
| 361-202 | 7/8 | 14 | 3 1/2 | 17 1/4 | 8 | 5 1/2 | Peterbilt |
| 361-100 | 7/8 | 14 | 4 | 9 | 8 | 3 1/2 | Hendrickson |
| 361-278 | 7/8 | 14 | 4 | 12 1/8 | 8 | 5 1/2 | Ford, Navistar |
| 361-167 | 1 | 14 | 4 | 15 7/8 | 8 | 5 1/2 | Navistar, Peterbilt |
| 361-212 | 1 1/8 | 12 | 4 | 13 | 8 | 5 1/2 | Mack |
| 361-146 | 1 1/4 | 12 | 4 | 13 7/8 | 8 | 5 1/2 | Mack |
| 361-110 | 1 1/4 | 12 | 4 | 14 7/8 | 8 | 5 1/2 | Mack |
| 361-596 | 1 1/4 | 12 | 4 | 14 7/8 | 8 | 5 1/2 | Mack w/DNM200 |
| 361-112 | 1 1/4 | 12 | 4 | 15 7/8 | 8 | 5 1/2 | Mack |
| 361-114 | 1 1/4 | 12 | 4 | 16 7/8 | 8 | 5 1/2 | Mack |
| 361-597 | 1 1/4 | 12 | 4 | 16 7/8 | 8 | 5 1/2 | Mack w/DNM200 |
| 361-116 | 1 1/4 | 12 | 4 | 17 7/8 | 8 | 5 1/2 | Mack |
| 361-118 | 1 1/4 | 12 | 4 | 18 7/8 | 8 | 5 1/2 | Mack |
| 361-598 | 1 1/4 | 12 | 4 | 18 7/8 | 8 | 5 1/2 | Mack w/DNM200 |
| 361-120 | 1 1/4 | 12 | 4 | 19 7/8 | 8 | 5 1/2 | Mack |
| 361-152 | 1 1/4 | 12 | 5 | 16 3/8 | 8 | 5 1/2 | Mack |
| 361-154 | 1 1/4 | 12 | 5 | 17 3/8 | 8 | 5 1/2 | Mack |
| 361-614 | 1 1/4 | 12 | 5 | 17 1/2 | 8 | | Mack w/DNM200 |